5 Tips for Formulating a Successful Strategy
Formulate the Winning Strategy
Choose and Capitalize on Business Strategy
T extbooks sometimes explain business strategy simply as a firm's high-level plan for reaching specific business objectives. Strategic plans succeed when they lead to business growth, a strong competitive position, and strong financial performance. When the high-level strategy fails, however, the firm must either change its approach or prepare to go out of business.
Define Your Terms!
Define Business Strategy
Business strategy is the firm's working plan for achieving its vision, prioritizing objectives, competing successfully, and optimizing financial performance with its business model.
The choice of objectives is the heart of the strategy, but a complete approach also describes concretely how the firm plans to meet these objectives. As a result, the strategy explains in practical terms how the firm differentiates itself from competitors, how it earns revenues, and where it earns margins.
Strategy in business—like strategy in chess—must have tangible objectives, a realistic plan for reaching them, and accurate knowledge of strengths and vulnerabilities. [Photo: Battle of the Somme, soldiers on break playing chess. Querrieu, France, October 1916]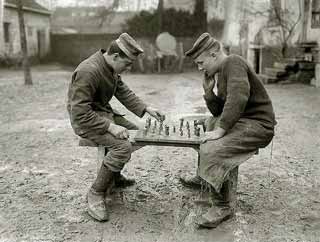 Strategy in business—like strategy in chess—must have tangible objectives, a realistic plan for reaching them, and accurate knowledge of strengths and vulnerabilities. [Photo: Battle of the Somme, soldiers on break playing chess. Querrieu, France, October 1916]
Strategies Reflect the Firm's Strengths, Vulnerabilities, Resources, and Opportunities. They also Reflect the Firm's Competitors and Its Market.
Many different strategies and business models are possible, even for companies in the same industry selling similar products or services. Southwest Airlines (in the US) and Ryan Air (in Europe), for instance, have strategies based on providing low-cost transportation. The approach for Singapore Airlines focuses instead on brand image for luxury and quality service. In competitive industries, each firm formulates a strategy it believes it can exploit.
Formulating Strategy Is All About Meeting Objectives (Goals)
In business, the strategy begins with a focus on the highest level objective in private industry: Increasing owner value. For most companies that is the firm's reason for being. In practical terms, however, firms achieve this objective only by earning profits. For most firms, therefore, the highest goal can be stated by referring to "profits." The generic business strategy, therefore, aims first to earn, sustain, and grow profits.
An Abundance of Strategies
Strategy discussions are sometimes confusing because most firms have many strategies, not just a single "business strategy." Analysts sometimes say marketing strategy when they mean the firm's competitive strategy. And, a firm's financial strategy is something different from its pricing strategy, or operational strategy. The firm's many strategic plans interact, but they have different objectives and different action plans.
The Strategic Framework
The strategic framework is a hierarchy. At the top sits the firm's overall (or generic) business strategy. Here, the aim is the highest-level business objective: earn, sustain, and grow profits. Some may immediately ask: Exactly how does the firm achieve it's profit objectives?
Firms in competitive industries answer the "how" question by explaining how the firm competes. For these firms, therefore, the overall business strategy is rightly called a competitive strategy. A "competitive strategy" explains in general terms how the firm differentiates itself from the competition, defines its market, and creates customer demand.
However, detailed and concrete answers to the "how" question lie in lower level strategies, such as the marketing strategy, operational strategy, or financial strategy, The marketing strategy, for instance, might aim to "Achieve leading market share." Or, "Establish leading brand awareness." Financial strategy objectives might include: "Maintain sufficient working capital" or "Create a high-leverage capital structure."
Moving Forward Strategically
As you move forward and embark on your strategic planning, tap into the knowledge and case studies of those who've come before you. To hone your strategic thinking skills, take a course on strategy, or speak with contacts in your network about their experiences.
Do you want to formulate winning strategies for your organization? Explore our portfolio of online strategy courses and download the free flowchart to determine which is the best fit for you and your goals.
About the Author
Catherine Cote is a marketing coordinator at Harvard Business School Online. Prior to joining HBS Online, she worked at an early-stage SaaS startup where she found her passion for writing content, and at a digital consulting agency, where she specialized in SEO. Catherine holds a B.A. from Holy Cross, where she studied psychology, education, and Mandarin Chinese. When not at work, you can find her hiking, performing or watching theatre, or hunting for the best burger in Boston.
Step 6: Cascading Goals to Departments and Team Members
Now in your Departments / Teams, you need to create goals to support the organization-wide goals. These goals should still be SMART and are generally (short-term) something to be done in the next 12-18 months. Finally, you should develop an action plan for each goal. Keep the acronym SMART in mind again when setting action items, and make sure they include start and end dates and have someone assigned their responsibility. Since these action items support your previously established goals, it may be helpful to consider action items your immediate plans on the way to achieving your (short-term) goals. In other words, identify all the actions that need to occur in the next 90 days and continue this same process every 90 days until the goal is achieved.
Examples of Cascading Goals:
Step 2: Tracking Goals & Actions
Monthly strategy meetings don't need to take a lot of time – 30 to 60 minutes should suffice. But it is important that key team members report on their progress toward the goals they are responsible for – including reporting on metrics in the scorecard they have been assigned. By using the measurements already established, it's easy to make course corrections if necessary. You should also commit to reviewing your Key Performance Indicators (KPIs) during these regular meetings.
Your Bi-Annual Checklist
Never lose sight of the fact that strategic plans are guidelines, not rules. Every six months or so, you should evaluate your strategy execution and plan implementation by asking these key questions:
Why Track Your Goals?
Sources:
https://www.business-case-analysis.com/business-strategy.html
https://online.hbs.edu/blog/post/strategy-formulation
https://onstrategyhq.com/resources/strategic-planning-process-basics/